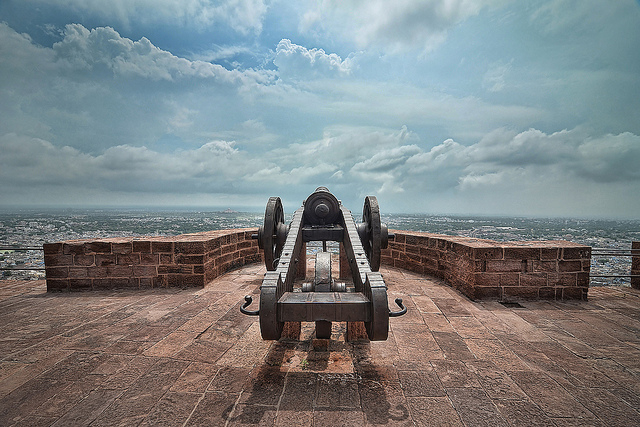 Jodhpur History :
Jodhpur history revolves around the Rathore Clan. Rao Jodha, the chief of the Rathore clan, is credited with the origin of Jodhpur in India. He founded Jodhpur in 1459. The city is named after him only. It was previously known as Marwar. The following paragraphs will tell you more about the past of Jodhpur, Rajasthan. The Rathores were driven out of their original homeland, Kaunaj, by Afghans. They fled to Pali, near to the present day Jodhpur. Rathore Siahaji married the sister of a local prince. This helped the Rathores to establish and strengthen themselves in this region. In some time they ousted the Pratiharas of Mandore, just 9 km of today's Jodhpur. Initially, Mandore served as their capital, but, by 1459, Rathores felt a need for a secure capital. This lead to the formation of Jodhpur, the Sun City, by Rao Jodha
History of Jaisalmer City :
The History of Jaisalmer has a charm of its own. Like all other cities of Rajasthan, Jaisalmer too has its own glorious past to boast about. History of Jaisalmer draws heavily from the history of the Rajputana. The city is said to be founded by one Raja Rawal Jaisal, a Bhatti Rajput ruler, in approximately 1156 A D. Legends go by that he did it on the behest of a local hermit named Eesaal. The raja choose Trikut hill as the new site for his fort. This was because he thought that his previous abode at Luderwa (16 km from present Jaisalmer) was vulnerable towards possible enemy assault.
What's Included?
– (Pickup Point – Jodhpur and Drop Point – Jodhpur on AC Car)
– Traditional welcome with Aarti, Tikka & Garlanding on arrival.
– Welcome drinks on arrival (Non-Alcohol).
– 02 Night at Sam Dunes in luxury Swiss Tent with dinner & breakfast.
– 02-Night at Executive room with breakfast at Hotel in Jodhpur.
– 02 Mineral Water, 02 Soft Drinks Per Day.
– Enjoy the colorful and vibrant Rajasthan Folk Dances, Songs with traditional food on desert.
– Camp-fire
-Tea/Coffee and Snacks
– Camel Safari & Night Jeep Safari
– Site Seeing all cities of Jodhpur & Jaisalmer and Desert .
– 10% Discount on F&B bills A`la carte Menu.
– Child age 6 yrs will be complimentary, without extra bed, sharing parent's bed.
Duration
5 days
Destination Covered
Best Suited
Families, Groups, Honeymoon